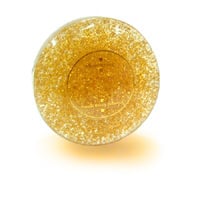 $

14.99 - On Sale
What a treasure among soaps!
Gold soaps has been used for centuries from ancient Egypt to imperial China for its incredible cleansing and healing powers.
Gold bar soaps has the ability to eliminate germs that are responsible for acne skin infections thanks to the incredible antimicrobial actions of gold.
Gold effectively removes odors, stains and toxins from your skin and keeps you fresh longer.
Gold does not affect the natural pH skin level, so you don't have to worry about dryness or local discomfort. On the contrary, skin improves its aspect, regaining elasticity and freshness, while red blotches and possible sun burns are immediately healed. The explanation for such quick skin recovery lies in the increased reactivity of gold and water that enhances the natural body response for healing and regeneration.
Our unique blend with glittering gold leaf leaves a subtle, lightly sweet and rich aroma.
Gentle enough for even the most sensitive skin with a cleansing disinfectant lather.
It has been told that gold bar soap is what kept the skin of Cleopatra looking young and flawless. Now it's your turn...
MSRP - $29.99!!!!